Buyers : Korea Gas Corporation (natural gas) and S-OiL (condensate)
The production facilities of the Donghae-1 and Donghae-2 gas fields consist of a subsea production control system, an offshore platform, topside facilities, an export pipeline, and onshore processing facilities.
Subsea production control system
Main subsea equipment has five subsea christmas trees that control gas production; five flowlines that convey gas to the offshore platform; and an umbilical line that supplies power and chemicals such as methanol and monoethylene glycol.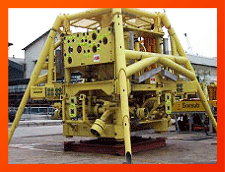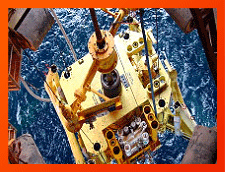 Offshore platform and topside facilities
Offshore platforms consist of 163 meter high jackets with four legs; three story topside decks with eight files of 72 inches in diameter; and a 152 meter high undersea section. The platform was designed to withstand wind velocity of 50 meters per second and waves of up to 17.5 meters (record breakers in the last 100 years). The facilities are able to endure an earthquake of up to magnitude 6.5 on the Richter scale.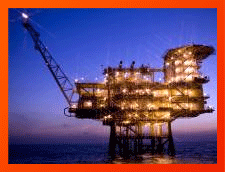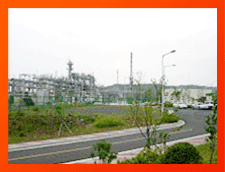 A gas pipeline runs 68 kilometers from the offshore platform to onshore facilities: 61 kilometers undersea and 7 kilometers above the ground. Gas is then transported to Korea Gas Corporation's facilities through the 7 kilometer long pipeline.
Onshore processing facilities
Onshore processing facilities consist of processing facility, electricity equipment, and office areas. The daily maximum processing capacity is 75 million cubic feet.
To maintain high standards in health, safety, and the environment (HSE), KNOC established the HSE management system. The system, which was certified with ISO 9001, ISO 14001, etc, was adopted for all of the company's processes and facilities around the world.
KNOC has made systematic efforts to enhance its operations regarding the Donghae-1 and Donghae-2 gas fields. Policies and procedure established exclusively for the gas field include general policies for Donghae-1 and Donghae-2 gas fields; risk management procedure; onshore emergency response procedure; platform emergency response procedure; Permit to Work system; oil spill contingency plan; change procedure management; and inspection, measurement, and test equipment control procedure.
Production in the Donghae-1 gas field had Korea join the ranks of oil producing countries. This is significant for the country because it is now able to meet a part of its energy demand with natural gas produced in its own territory.
Through the Donghae-1 and Donghae-2 development project, KNOC accumulated experience and knowhow in all areas from exploration and development to production and distribution. The accumulated intangible assets will ultimately help Korea's oil and gas industries improve their technologies and raise their competitiveness to the next level.