Gorgon is one of the world's largest LNG projects and the largest single resource project in Australia's history.
Located on Barrow Island – a Class A Nature Reserve – Gorgon comprises a three-train, 15.6 million tonnes per annum LNG facility and a domestic gas plant with the capacity to supply 300 terajoules of gas per day to Western Australia.
With the capacity to also produce 20,000 barrels of condensate per day, the Gorgon Project will remain an important pillar of the Australian economy for decades to come as it continues to meet global demand for cleaner-burning fuel.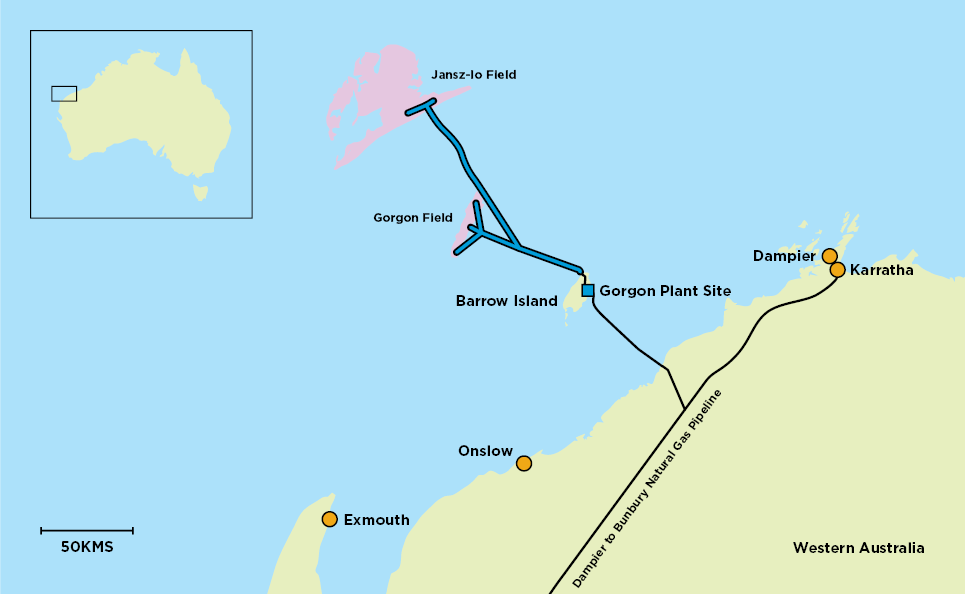 The Gorgon Project is located on Barrow Island, around 60 kilometres off the northwest coast of Western Australia.
With a predicted project lifespan of more than 40 years, the development of Gorgon is a legacy in reliable energy supply, environmental management, innovative technology and expertise.
The first LNG cargo departed Barrow Island on 21 March 2016 and domestic gas supply to the Western Australian market commenced in December 2016.
Additional wells and subsea infrastructure will be added to the existing Gorgon and Jansz-Io gas fields to maintain future gas supply to the three existing LNG trains. This was always envisaged as part of the original field development plans. Australian contractors and suppliers are encouraged to learn more about opportunities on Gorgon Stage Two and Jansz-Io Compression (JIC) by visiting ProjectConnect and ICN Gateway.
The Gorgon Project is operated by Chevron Australia and is a joint venture of the Australian subsidiaries of Chevron (47.3 percent), ExxonMobil (25 percent), Shell (25 percent), Osaka Gas (1.25 percent), Tokyo Gas (1 percent) and JERA (0.417 percent).